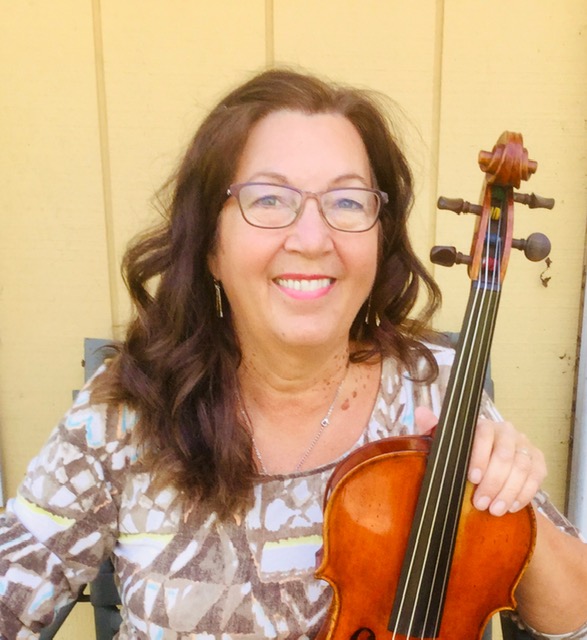 As a small child, in my parents' 1960's record collection, I found an album of Jascha Heifetz performing the Mendelssohn Violin Concerto in E minor. I was so moved, it pierced my heart/soul, but at the time I wasn't able to verbalize it. I still remember and have that intense pull to string music.
In the Illinois school system, our Orchestra teacher demonstrated instruments, I immediately knew the violin was what I wanted to play. In a family of five kids, the older ones not continuing with their music lessons, my request was denied. The savvy orchestra teacher called my Mom, and said, "You must give this child her chance." I was secretly taking noon school lessons from her. My Mom was convinced. A few days later I was overjoyed to find a 1/2 size violin hiding under my bed and I have never turned back!  My beginning teacher's son currently performs with the Boston Pops.
We moved up to Burlington,WI in my early teens where there wasn't an Orchestra school program. So my devoted Mom drove me into Milwaukee for private lessons, where I was also a member of the MYSO program. I remember gas being .25 cents/gallon! I continued my undergraduate music studies at UW Parkside.
A new Orchestra program began in Burlington, and I was hired, unknowingly, by my future father in law. I was so ready to move to a big city ASAP, but I took the job and ended up teaching Orchestra for over 30 fulfilling years. I had the honor of teaching/conducting hundreds of Burlington strings students, grades 4th through 12th.
My Music Ed. graduate work was completed at UW Whitewater. I also am a certified Suzuki teacher, studying at UW Stevens Point. On the flip side of classical music, I performed over twenty years in a country rock band, every weekend, gigging on a white electric fiddle. We performed at many fairs, wedding receptions, private events and other venues~ bars lol.
I purchased my forever viola, a year ago, and am exploring this beautiful instrument.
I've performed many years, on violin in Racine Symphony Orch. and many years on viola with LGSO.  I enjoy performing Chamber music in wedding quartets and duets. My hobbies include hiking, gardening, reading, yoga/Pilates, and we love the boating/marina life on Lake Michigan. Pre COVID, I enjoyed tutoring struggling readers, in 1st/2nd grade. Non hobby~ I can't cook, would much rather go practice…
We still live in Burlington, we have two old cats and an active puppy. We celebrated our 40th wedding anniversary last year and we have two sons.
I'd like to give credit to my 1st public school teacher, Mrs Hoener, for making that phone call that made such a huge difference in my life. One person's vision can make a big difference in a child's life.